Although it was almost 75 years ago when on Feb. 19, 1942 President Franklin Roosevelt signed E.O. 9066, which was neutral on its face, but applied only to rounding up & interning nearly 120,000 Japanese American civilians (2/3 were U.S. Citizens) into relocation camps across America — there is still interest today in the injustice done by these camps and relocation of innocent people. My father Francis Sueo Sugiyama was one of those who fled Los Angeles for Chicago in 1942, before the camp round up. (He had just been expelled from USC's Dental School due to his race).
Event coming up Friday at the Tucson Jewish History Museum (564 S. Stone Ave.), see flyer below: Gallery Chat with poet Brandon Shimoda. "A researcher on this subject and a direct descendant of this history's victims, Brandon will facilitate a discussion on the wartime incarceration of Japanese Americans in Arizona."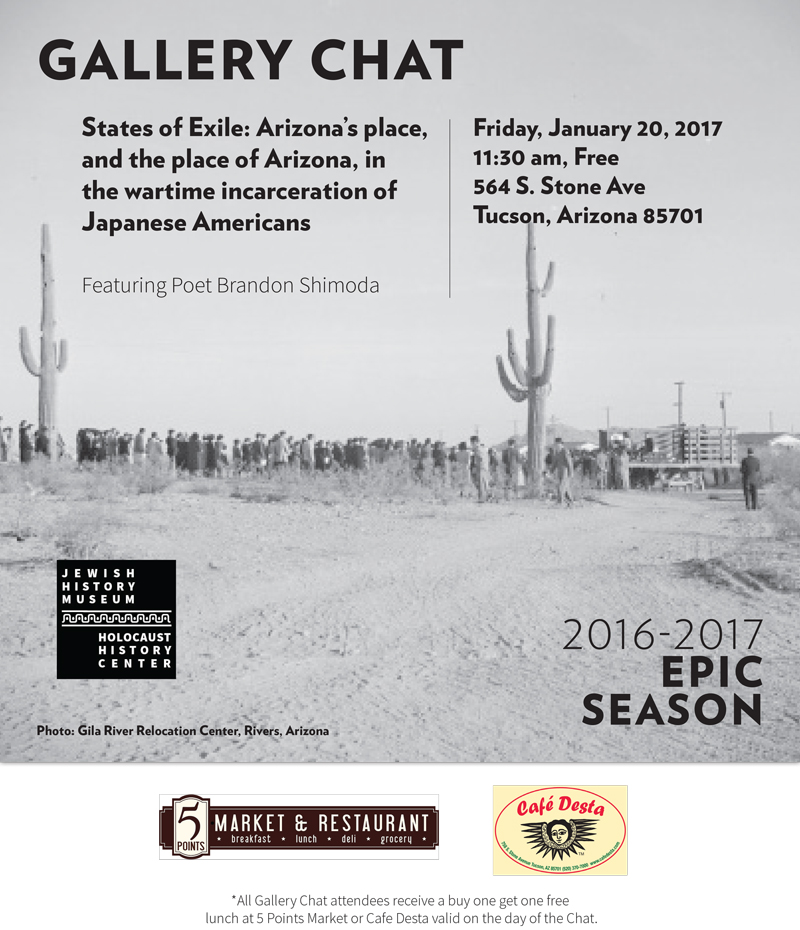 Coming up Sunday Jan. 22 at the Tucson Desert Art Museum (7000 E. Tanque Verde Rd.) is a talk entitled "Baseball Behind Barbed Wire".
January 22, 2017 1:30 pm
Baseball was immensely important to the Japanese Americans in concentration camps. Bill Staples, author of "Kenichi Zenimura: Japanese American Baseball Pioneer", will share how baseball helped raise the spirits of those in the camps and also helped with outside prejudice as the camps invited outside teams to play in matches. This event is free in the auditorium. Museum admission rates apply for entrance to the exhibit."
Speakers:
Bill Staples – author of "Kenichi Zenimura: Japanese American Baseball Pioneer"
Kerry Yo Nakagawa – author and baseball historian, expert in Japanese American baseball
Tets Furukawa – former player/pitcher with the 1945 Gila River Eagles
Kenso Zenimura –  followed in his father's footsteps as a talented player, coach, and mentor, as well as an ambassador for international baseball