More than 150 world leaders are arriving in Paris today for the 2015 Paris Climate Conference – COP21 beginning Monday.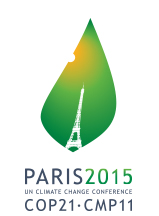 The conference will, for the first time in over 20 years of UN negotiations, aim to achieve a legally binding and universal agreement on climate, with the aim of keeping global warming below 2°C.
France will play a leading international role in hosting this seminal conference, and COP21 will be one of the largest international conferences ever held in the country. The conference is expected to attract close to 50,000 participants including 25,000 official delegates from government, intergovernmental organisations, UN agencies, NGOs and civil society.
To visit the official COP21 website for more information, click here.
In advance of the conference, the largest demonstrations of climate change activists ever occurred today. Reuters reports 'No Planet B', marchers worldwide tell leaders before U.N. climate summit:
Hundreds of thousands of people from Australia to Paraguay joined the biggest day of climate change activism in history on Sunday, telling world leaders gathering for a summit in Paris there is "No Planet B" in the fight against global warming.
In the French capital, where demonstrations were banned by the authorities after attacks by Islamic State militants killed 130 people on Nov. 13, activists laid out more than 20,000 shoes in the Place de la Republique to symbolize absent marchers on the eve of the summit.