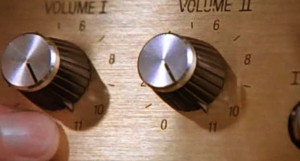 You can't make this shit up. The GOP today does its own version of Spinal Tap by dialing it up to 11.
Martin Longeman writes at the Political Animal Blog, Trump Takes Idiot to Eleven in Scotland:
Writing in the New York Times, Ashley Parker casts some shade on Donald Trump's triumphant reaction to the U.K.'s decision to separate from the European Union.
Early in June, Mr. Trump did not even know what Brexit referred to, and as recently as Wednesday, Mr. Trump said that his opinion on the referendum was insignificant because he had not been following the issue closely.
Amazingly, Trump landed in Scotland today to promote his golf course, seemingly without realizing that the Scots are pissed as hell about the outcome of the referendum.
In a stunning display of tone-deafness, he told the assembled reporters how great it was that the U.K. has asserted its independence. And then proceeded to explain how the tumbling English pound would help his golf course make money.